Hanski+ have ranked the top 5  resorts for the best apres to provide you with a lively holiday.
St. Anton is a legendary après-ski destination in the Austrian Alps. Renowned for its vibrant and energetic atmosphere, this charming Tyrolean village offers an unforgettable post-slope experience. St. Anton's includes numerous traditional Austrian après-ski huts where you can enjoy schnapps, live music, and hearty local snacks. The town also boasts stylish cocktail bars, bustling nightclubs, and cozy lounges for those seeking a more diverse nightlife.
Val Thorens is an ultimate après-ski paradise. Nestled in the heart of the world's largest ski area, the Three Valleys, this high-altitude resort offers an unbeatable après-ski scene. The town comes alive with a myriad of bars, clubs, and restaurants, catering to all tastes and ages. From sun-soaked terraces to electric nightclubs, Val Thorens has it all. You can savour drinks at high-altitude bars, groove to live music, and enjoy themed parties with a friendly international crowd.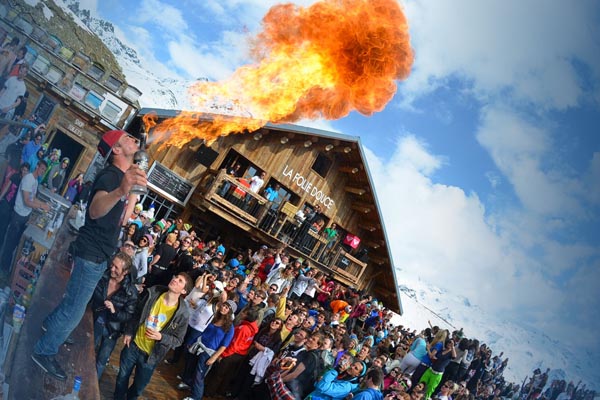 Sauze d'Oulx is a hidden gem for après-ski enthusiasts, offering an inviting and lively atmosphere for post-slope relaxation and entertainment. The town boasts a wide range of bars, pubs, and restaurants, making it a fantastic choice for those looking to unwind and socialize. You can enjoy drinks and snacks at charming mountain huts, join in on live music and DJ sets at buzzing venues, or savor Italian delicacies at cozy eateries. 
Meribel is an exceptional destination for après-ski activities thanks to its vibrant and diverse nightlife scene. Nestled in the heart of the French Alps, this charming resort offers an array of après-ski options, from cozy alpine bars to bustling clubs. The après-ski culture here is second to none, with live music, DJ sets, and themed parties adding to the fun. Whether you prefer sipping mulled wine by a roaring fire, dancing the night away, or indulging in delicious French cuisine, Meribel has it all. 
Val d'Isère is renowned for its fantastic après-ski scene, making it a top choice for those looking to continue the fun after a day on the slopes. The village is alive with a plethora of après-ski bars, clubs, and restaurants that cater to various tastes and preferences. Whether you want to enjoy a relaxed apéro with stunning mountain views, dance to live music in a lively atmosphere, or savor gourmet cuisine in a cozy chalet-style setting, Val d'Isère has it covered. 
Find the best apres ski hanski
At Hanski we have been creating tailor made ski and snowboarding holidays for over 20 years. You can trust that we will consider all aspects of your holiday to suit you.